MASTERCLASS M01 | Master your lyre
Ready to become one of the very few lyre players who brought the plectrum technique to the next level? This is a Lyre Masterclass, specially designed for the advanced players willing to master their lyres! Everything you need to know, mindfully packed into one course: we will approach and practice with our plectrum using dozens of challenging exercises and learning many demanding pieces of music to sharpen our skills. What's more, we are going to see practical tips on how to get the most out of our plectrum.
This course is for competent lyre players who have preferably (but not obligatory) completed the Advanced Semester of the LyreAcademy. What's more, it is for lyres of any type with at least 7 strings.*
At the end of the course you will know how to...
Implement to your lyre playing a very advanced plectrum technique.
Play crystal-clear harmonics using your plectrum.
Add challenging exercises in your daily practice routine.
Masterfully combine "hroes" with plectrum.
Masterfully combine fingerstyle playing with plectrum.
Masterfully combine regular and muting chords with plectrum.
Play your lyre with two plectrums.
Add very advanced and impressive melodies to your lyre repertoire.
Elevate your lyre playing to the next level using the plectrum.
* Do you own a lyre with more strings? The course can be done by students with a lyre or a kithara with 7 or more strings. Simple and step-by-step videos are available to prepare your lyre for the courses (including tuning).
Lesson 1 : To Whom is this Masterclass for?
Ready to follow your dream and become one of the few lyre players who brought the plectrum technique to the next level? This is a masterclass designed for any advanced player willing to master his lyre.
Lesson 2 : Sharpening our Skills
Let's sharpen our plectrum skills to be ready for what will come, with some challenging exercises and a new piece of music, ideal for further advancing our plectrum technique.
Plus: Practical tips, and lyre exercises
Lesson 3 : Harmonics with a Plectrum
How can we produce perfect harmonics when using a plectrum? When and why use the plectrum? Let's see together a series of really advanced exercises, ideal for mastering the plectrum harmonics technique.
Plus: Practical tips, and lyre exercises
Lesson 4 : Your First Melody with Plectrum Harmonics
Let's put into practice what we have seen in theory and practiced during the previous lesson. Time to amaze yourself and your audience with your really advanced approach of using a plectrum!
Plus: Practical tips, and lyre exercises
Lesson 5 : Hroes with a Plectrum
"Hroes" can loosely be considered the next level's "harmonics!" When harmonics can produce three more notes on a single string, the hroes can have up to eleven! You can reach this phenomenal skill only with a plectrum, and in this lesson, we will unlock its first secrets.
Plus: Practical tips, and lyre exercises
Lesson 6 : Melody "Echoes" using Hroes
It's time to put everything into practice by playing a melody that heavily uses the hroes technique, a song titled "Echoes."
Plus: Sheet music for a lyre
Lesson 7 : Next Level Finger-style Playing with a Plectrum
Mastering your finger-playing while holding a plectrum? It is possible and can lead you to new brave ways of playing with your lyre. Are you ready to reach the next level through a series of advanced plectrum exercises?
Plus: Practical tips, and lyre exercises
Lesson 8 : Learn a Melody using Plectrum Finger-Style Playing
Let's put into practice everything we learn in our previous lesson. We will learn together, step by step, a piece of music using extensively finger-style playing with a plectrum; a melody called "Excessive Patience."
Plus: Sheet music for a lyre
Lesson 9 : Regular & Muting Chords using a Plectrum
Harmonizing a Melody 104. In this lesson, we are going to apply what we have learned in this course by harmonizing an advanced and quite demanding melody to be played on an ancient lyre. 
Plus: Sheet music for a lyre
Lesson 10 : Plectrums on Both Hands?
Lesson 11 : Double Plectrum Playing; Dorikos Melody
Lesson 12 : Masterclass Finale
Where do I go from here?
So, you have just finished the masterclass M01 and want to further advance your lyre playing? Take a quick look on our next masterclass, focusing on the phenomenal "hroes" technique!
Enroll in this Course
Start your lyre study today!
Enroll and get...
Full access to the masterclass for just $199.
Immediate access to all 12 lessons.
Including access for 3 months.
Exclusive access to our Private Students' Group, where you can ask anything and get personalised feedback from your instructor.
Crystal clear sound.
Fast loading 4K videos.
Lesson handouts with extras.
Sheet music for lyres.
$29/month if you want to extend your access.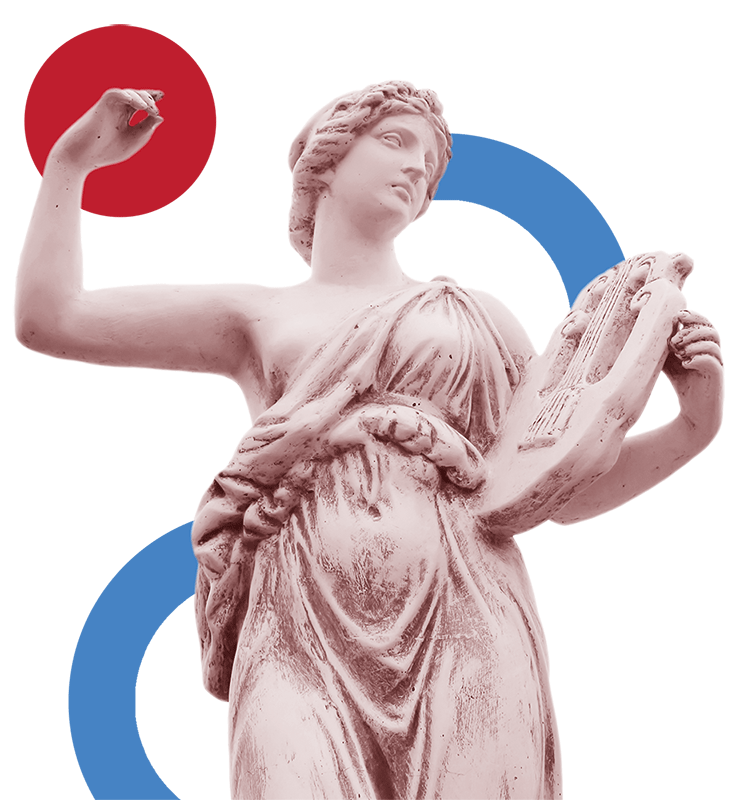 Lina Palera is a world-renowned lyre player and a charismatic teacher with more than a decade of experience in music schools and educational institutions in the United Kingdom, Greece and abroad, working with adults and children too. She travels a lot for live performances at museums, festivals, conferences and other venues.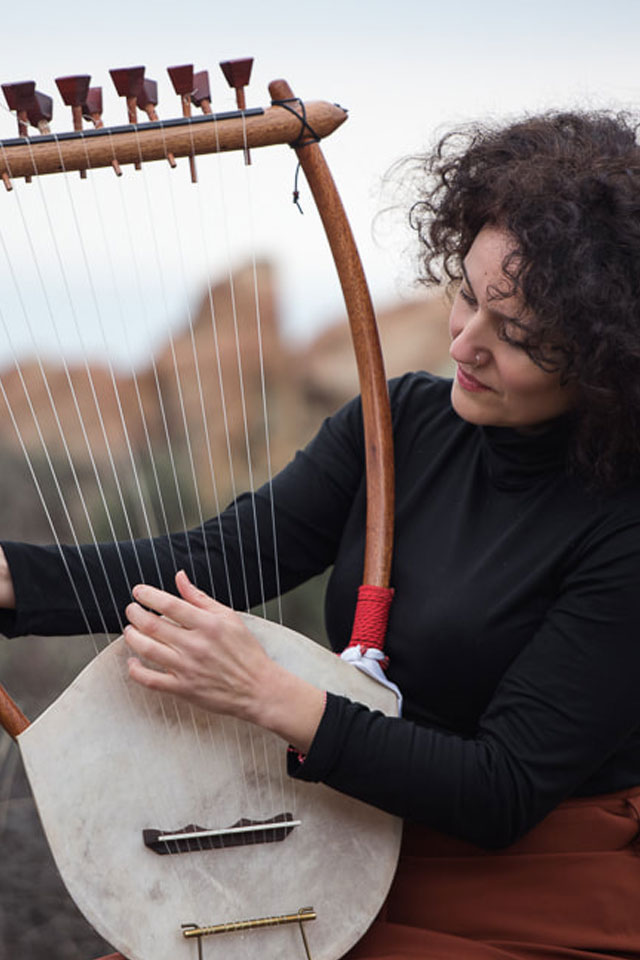 | Start learning immediately by enrolling in a course.
| Access from any device (computer, tablet or smartphone)!
| Learn from the best: top players with decades of teaching experience!
| Watch as many time as you like! Re-take the lessons.
| Learn anywhere, anytime, at your pace!