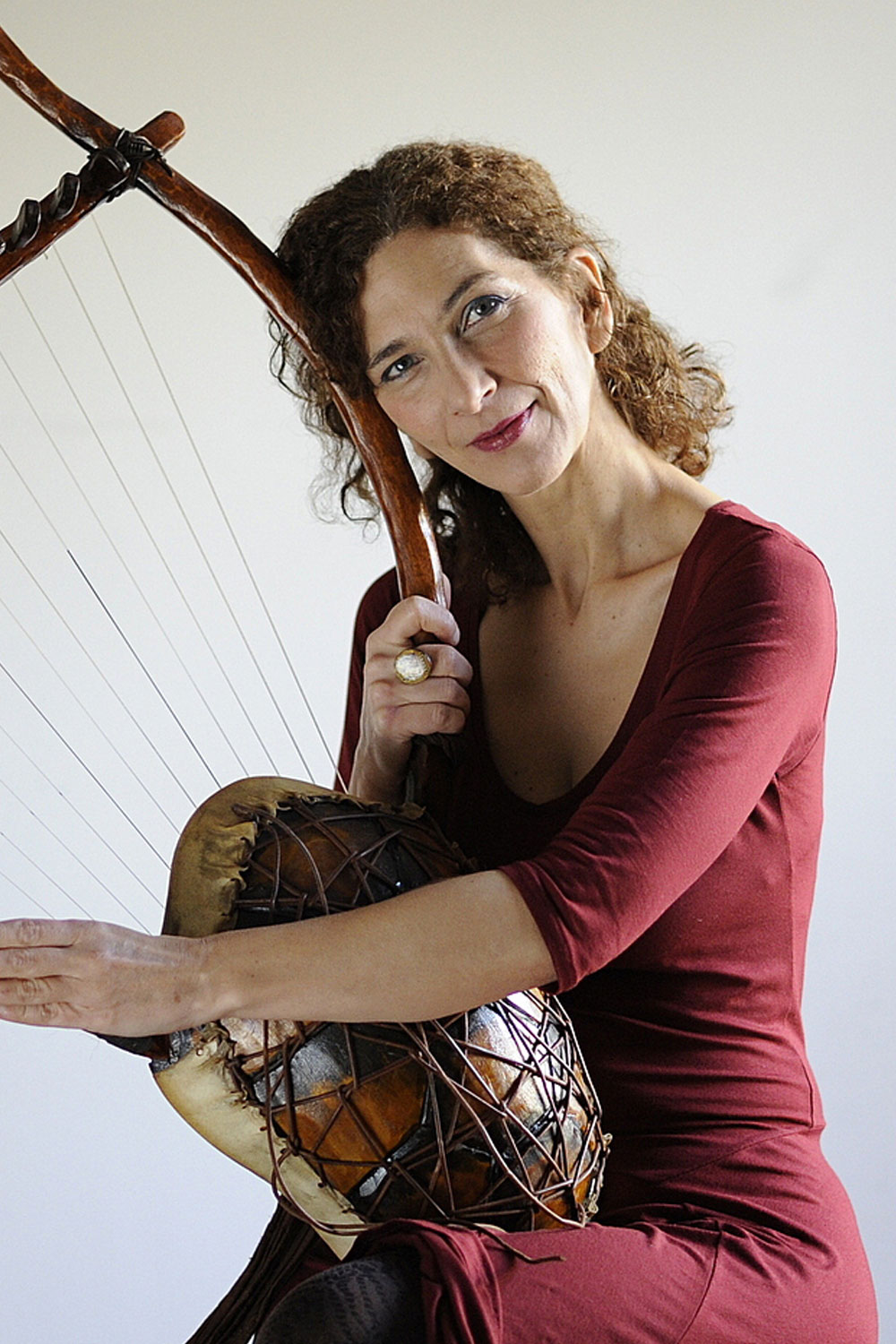 Courses in the making
 Available later this year
Teaching: Lyre and live performance
Aliki is an artist and music teacher who lives in Athens. She accomplished her musical studies on the Piano, Counterpoint and Opera at the National Music Academy. She came across the ancient Greek lyre in 2004, while she was exploring the string instruments.
Aliki studied ancient musical fragments, and she developed a personal way of playing. Techniques borrowed from the Harp, the Krar or the Kanun are woven into her style. She combines the Lyre with many different instruments such as the wooden flutes, the Sitar, the Lyre from the Black Sea, Cretan Lyre, Dub Music, etc.
Aliki summons the lyrical Sapphic spirit with her melodies, and she also takes inspiration from the Asia Minor, Byzantine music, Indian music, etc.
She has performed with the ensemble Ghi & Thalassa (2007-2012), she recorded a music albume with the world-awarded Byzantine singer Nektaria Karantzi, she wrote the music for Acropolis Museum reconstruction documentary (2014), and many more.
In 2013 she composed and recorded the album Awakening the Muse with the Lyre 'n' Rhapsody band. In 2014 the same band recorded the album Kirke, with songs composed by all its members. In 2015 Lyre 'n' Rhapsody recorded the album Aegean, with world-awarded ancient Chinese musicians Chang Jing and Chang Di. The album was released in China and Taiwan in July 2016. In August 2016 she toured in Shanghai with the Aegean team, performing the music of their album. In 2017, she recorded the album The Chelys Songs with Vassiliki Papageorgiou, Deria Turcan (Kemence), Oguz Buyukberber (Bass Clarinet) and Chrysostomos Boukalis (Double Bass) in Istanbul.
Aliki also recorded a solo album, Shappho's Whisper based on lyre techniques and voice, which was released in 2018.
Along with Zafiro Hatzifotiou, and Chrysostomos Boukalis, Aliki presented Leda and Swan, songs for lyre, double bass and voices at Ecole Francaise d' Athenes for the 9th Moisa International Conference. Aliki today is an active performer, playing often in Athens, Zurich, and many more!